With Optus, Vodafone and Telstra's announcement of the 3G Network shut down there are certain TMR device models that will need to be upgraded before December 2023. The complete shutdown dates for each of the 3G networks are as follows

Before these dates, the telco's may reduce the capacity of their 3G networks as they are upgraded to newer 4G technology so it's important to upgrade your tracker sooner rather than later to ensure the best uninterrupted service possible. After the 3G network is shut down, the tracker models shown below will unfortunately no longer be operational.

We recommend you upgrade to either of our latest generation trackers, the
TMR-S8
or
TMR-S8W
which both support the 4G networks in Australia roaming across Telstra+Optus+Vodafone automatically for the best coverage possible!
FAQ

Why do I need to upgrade?

The 3G networks in Australia offered by Telstra, Optus and Vodafone are being phased out, and their services will no longer be available starting December 2023. Upgrading to a 4G GPS tracker is essential to ensure uninterrupted tracking and communication capabilities for your devices.

How do I know which need to be upgraded?

On our upgrade page
https://app.trackmyride.com.au/v2/upgrade
, it will tell you how many units need to be upgraded.

You can click the link at the bottom of the page to view which trackers need to be upgraded

The vehicles using a 3G tracker will be listed to be upgraded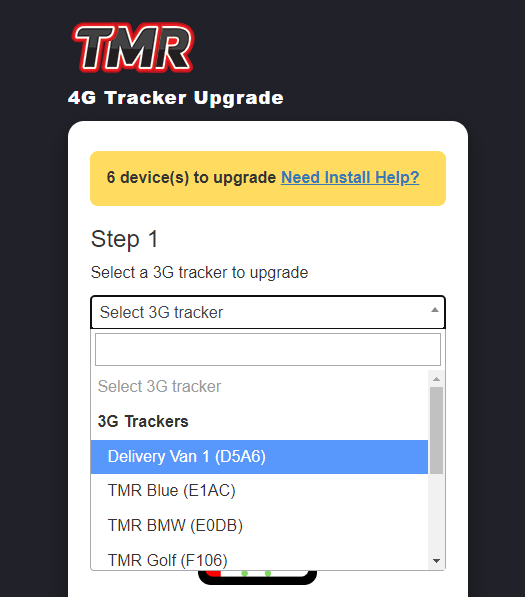 What's the difference between 3G and 4G GPS trackers?

The primary difference between 3G and 4G GPS trackers lies in the network technology they use to transmit data. 4G offers faster data speeds, better coverage, and improved reliability compared to 3G. Upgrading to 4G GPS trackers ensures you have access to the latest technology for more accurate and real-time tracking. We've made lots of improvements to our latest generation GPS tracker hardware other than just upgrading the mobile network chips.

What are the benefits of upgrading to a 4G GPS tracker?

Faster and more reliable data transmission.
Improved coverage, even in remote or low-signal areas.
Enhanced real-time tracking accuracy.
Compatibility with future technological advancements.
Long-term viability as 4G networks are expected to be active for years to come.

Latest hardware improvements with our current generation hardware tracker.

New alerts types for harsh acceleration, braking and cornering.

More energy efficient while the vehicle is parked up in sleep mode.

Fully internal high gain GPS and mobile antennas. No external antennas to install.

Plug-n-Play installation via OBDII power cable and hard-wire - Both power cables are included in the box.

Can't I just keep using my 3G GPS tracker after the network shutdown?

Unfortunately, no. After the 3G network shutdown, your 3G GPS tracker will no longer be able to connect to the mobile network, rendering it obsolete. To continue tracking your assets and vehicles, it's crucial to upgrade to a 4G GPS tracker before the shutdown.

Will upgrading to a 4G GPS tracker be complicated?

Upgrading to a 4G GPS tracker is designed to be a smooth process. We've built a dedicated webpage at
https://app.trackmyride.com.au/v2/upgrade
to guide you through the process and offer you an amazing deal on upgrading. Our latest TMR-S8 GPS tracker is easy to install and set up. If you're unsure, our customer support team is available to assist you through the transition and answer any questions you may have. Send us an email to
support@trackmyride.com.au
How do I upgrade my old trackers?

Once you have purchased your new trackers from our upgrade portal at
https://app.trackmyride.com.au/v2/upgrade
, simply return to that page again and you will be guided through the process of installation and activating the new 4G tracker against your original vehicle. You can either Plug-n-Play install the new tracker, or wire it into the original wiring from your original tracker. You can also learn more at our
installation guide page
in our support portal.
What do I do with my old 3G tracker?

You can send the tracker back to us for recycling, or take it to your local e-recycling center. Our address for recycling your old tracker is

Track My Ride
Attn: Recycle
661 Waterdale Road
Heidelberg West, VIC 3081
What if I can't find my 3G tracker in the vehicle?

Your original tracker is most likely installed under your dash, or behind your glove box. If you cannot find the unit easily, you can reach out to the original installer to ask them where it was installed. Alternatively, you can check for any additional wires that have been connected to your vehicle's fuse box or main battery and trace those wires back to the device they're connected to.

What if I need support or have a question about the upgrade?

We have an amazing deal to support our customers with 3G devices to upgrade! Grab the new
Track My Ride Series 8 GPS tracker
today at up to 60% off, with the latest GPS technology enhancements such as GLONASS, Galileo, motion sensor, IO, backup battery and more built right in! Best of all, it's plug and play so you don't even need to hard-wire anymore if you don't want to.